Start seeing amazing results within 2 weeks of using this one product.
Prestige Hair Oil and Rice/Rose water hair spray Set:
Regular price
$46.95 USD
Sale price
$40.00 USD
Unit price
per
Sale
Sold out
Introducing the ultimate solution for achieving long, luscious Hair - our powerful hair growth combo that includes a 8oz bottle of our specially crafted Fermented Rice and Rose Water Hair Spray, and a 4oz bottle of our Prestige Hair Oil.
Our Fermented Rice and Rose Water Hair Spray is a potent blend of nourishing ingredients that work together to promote hair growth, increase hydration, and prevent breakage. Perfect for all hair types, it is particularly effective for those with dry scalp and brittle hair, providing deep moisture and detangling benefits to ensure your hair remains healthy and vibrant.
Our Prestige Hair Oil is a luxurious blend of all-natural and organic ingredients, expertly formulated to provide relief from scalp sensitivity, dryness, and other common hair-related issues. With consistent use, you will notice significant improvement in hair growth, as well as enhanced manageability and shine.
To use, simply spray the Fermented Rice and Rose Water Hair Spray on your scalp and hair, followed by a light massage with our Prestige Hair Oil. Use twice daily or as desired for optimal results.
Suitable for both men and women of all ages, our hair growth combo is the perfect solution for achieving the long, healthy hair you've always dreamed of. Start seeing results in as little as few weeks with consistent use, and experience the transformational benefits of our all-natural and organic hair care products today.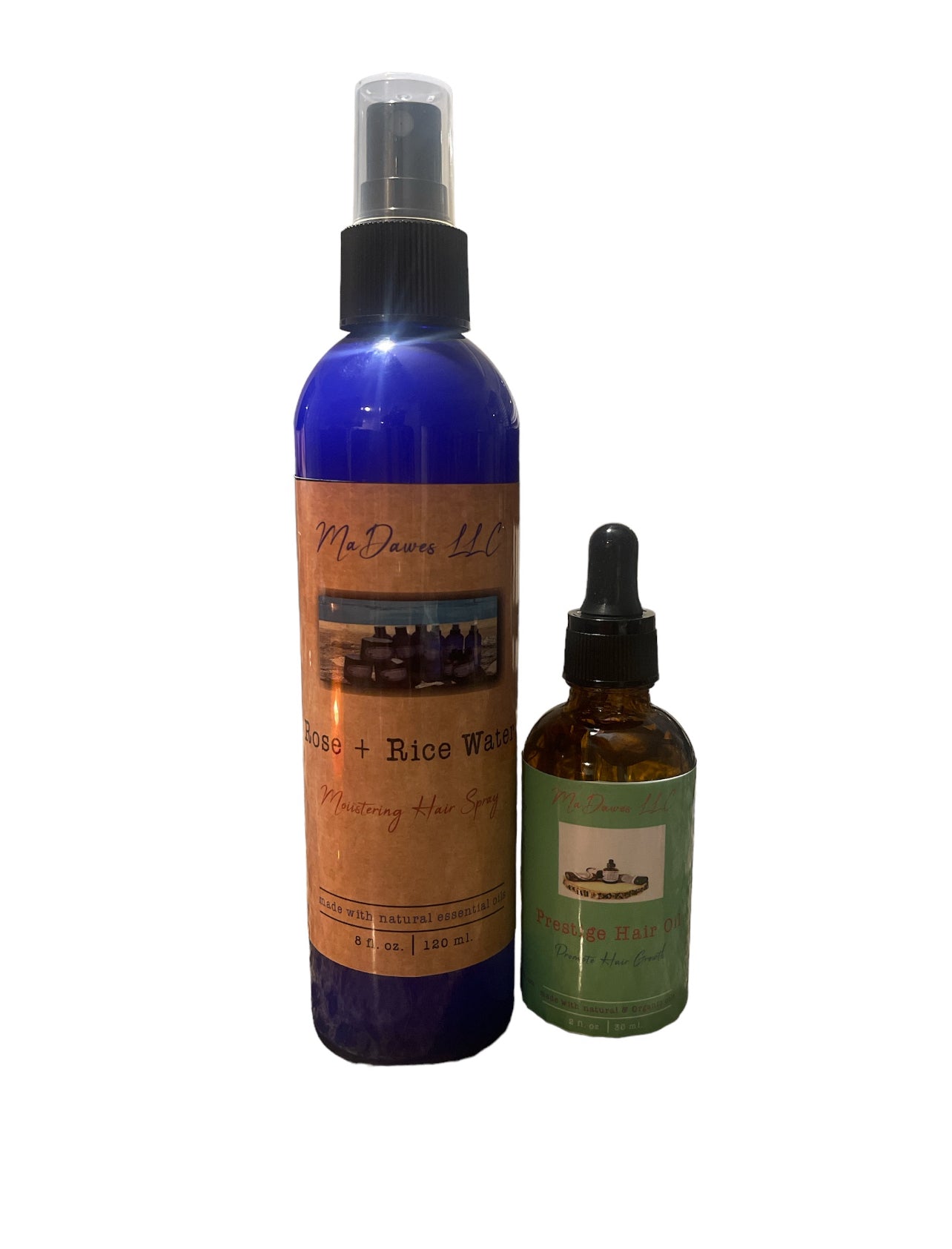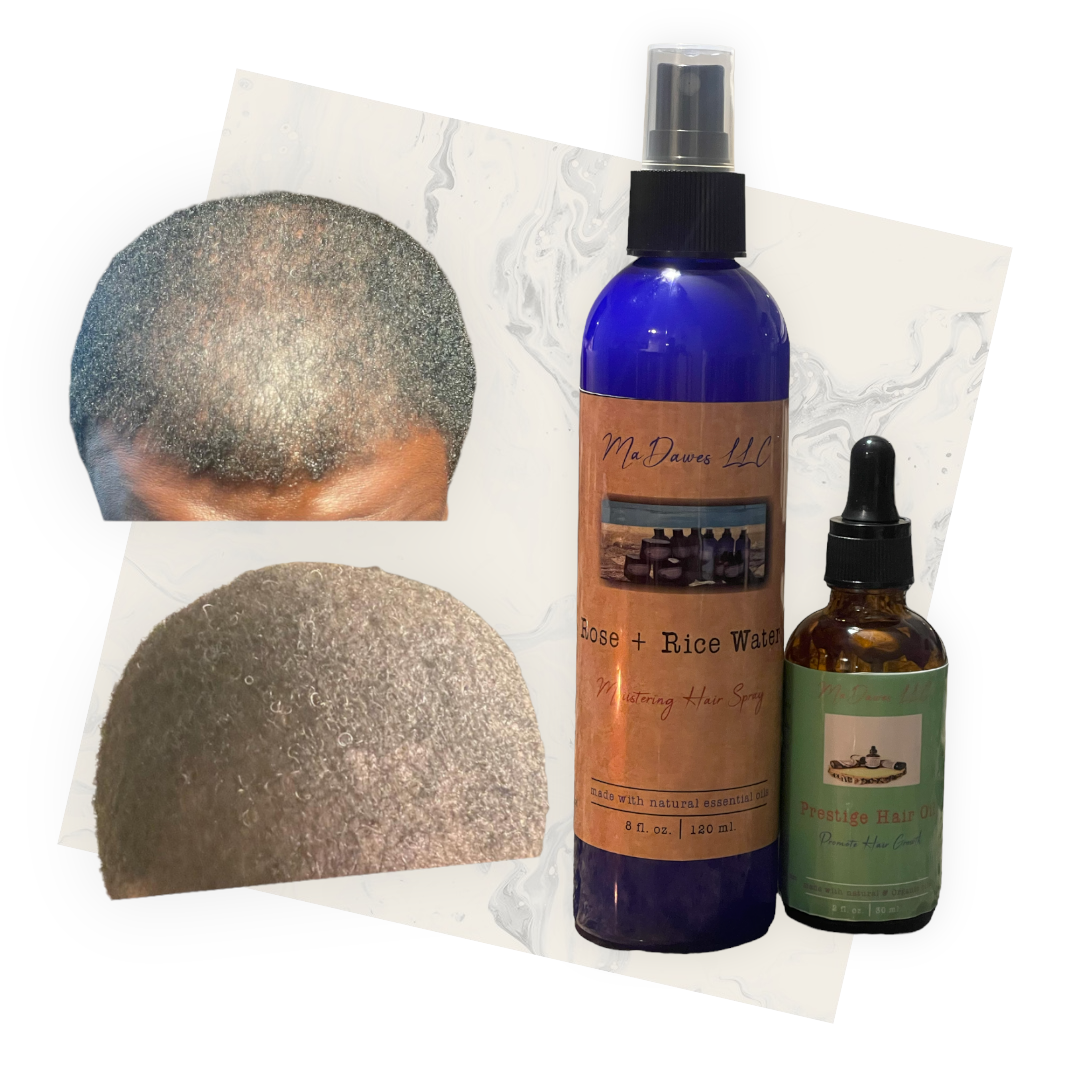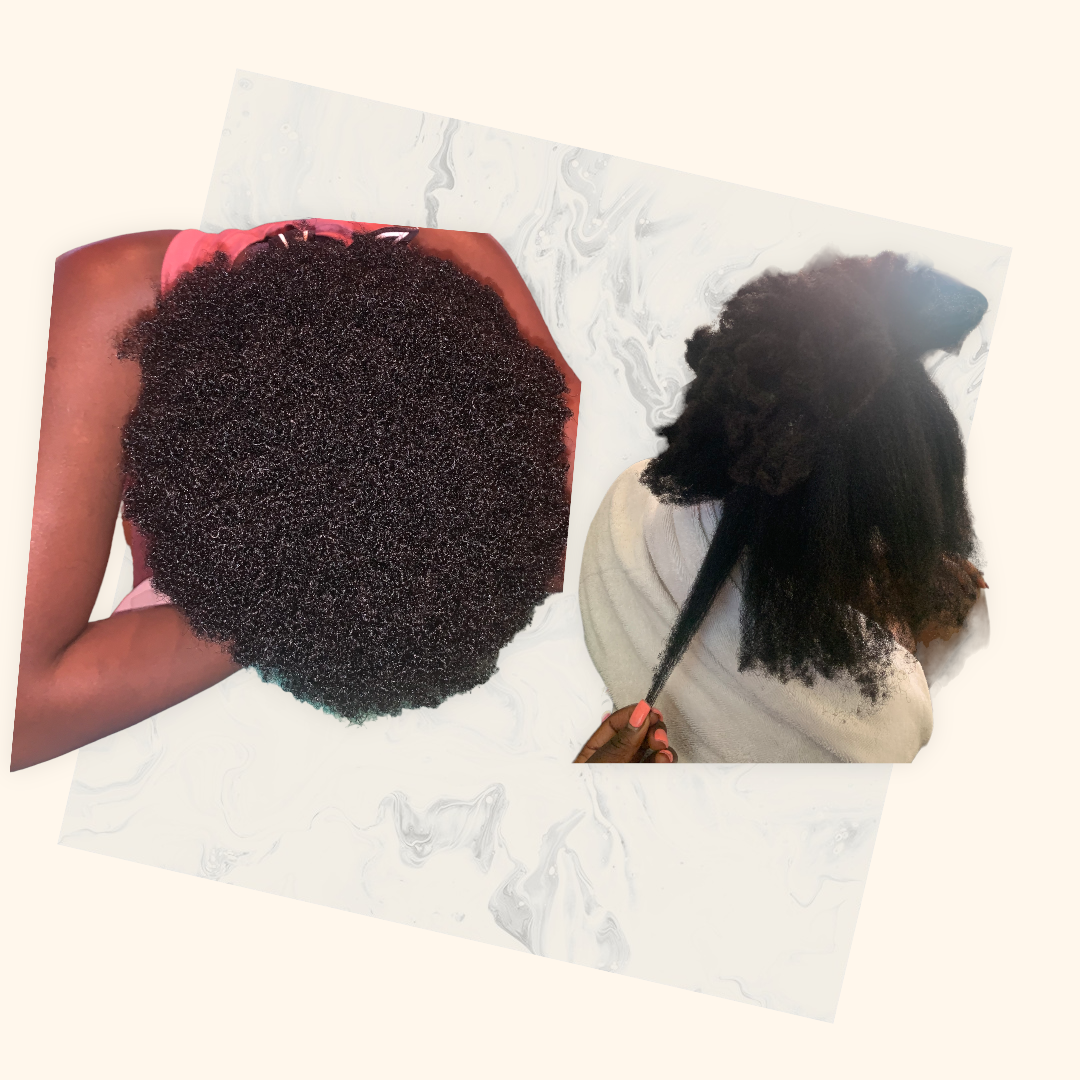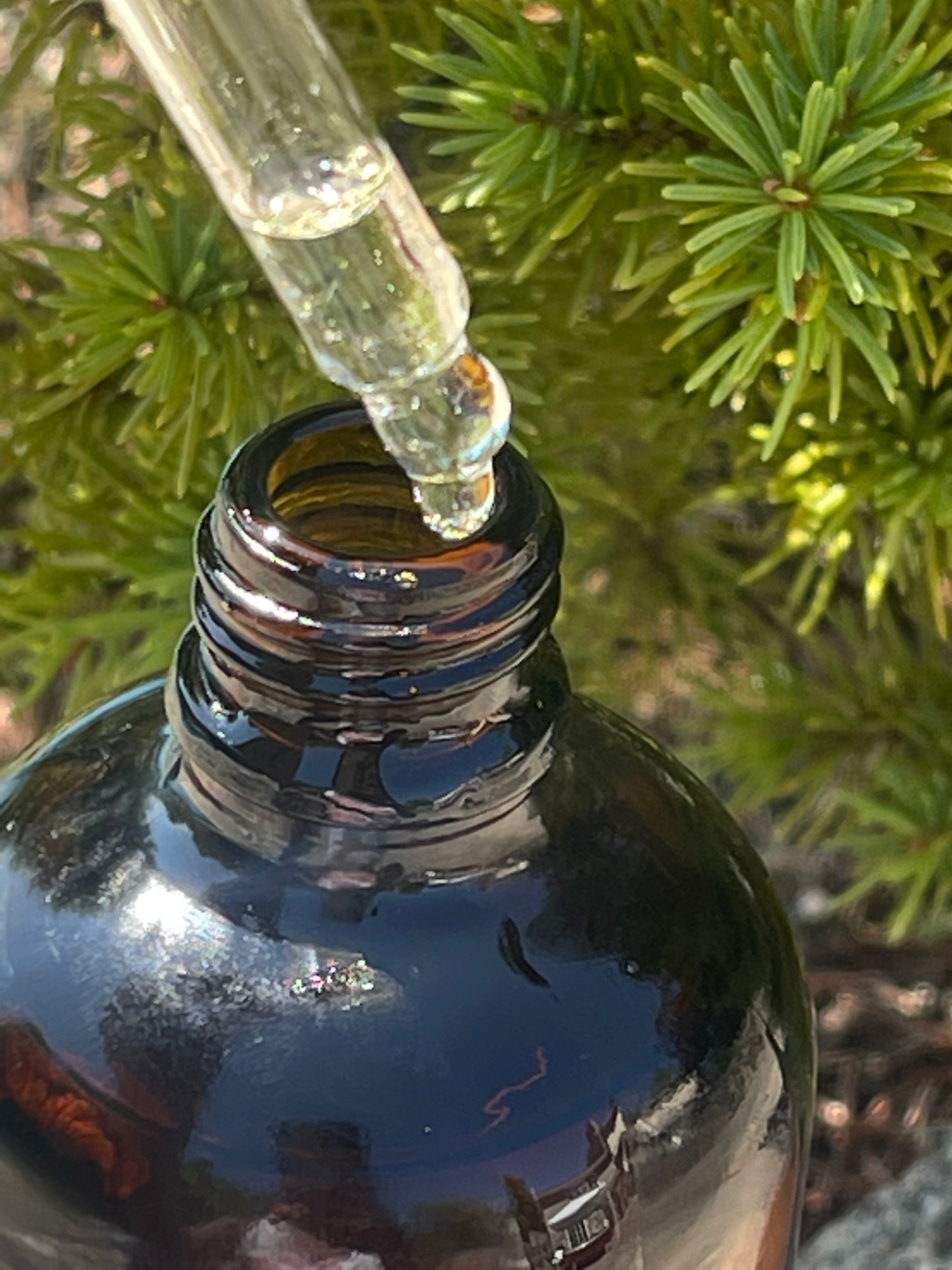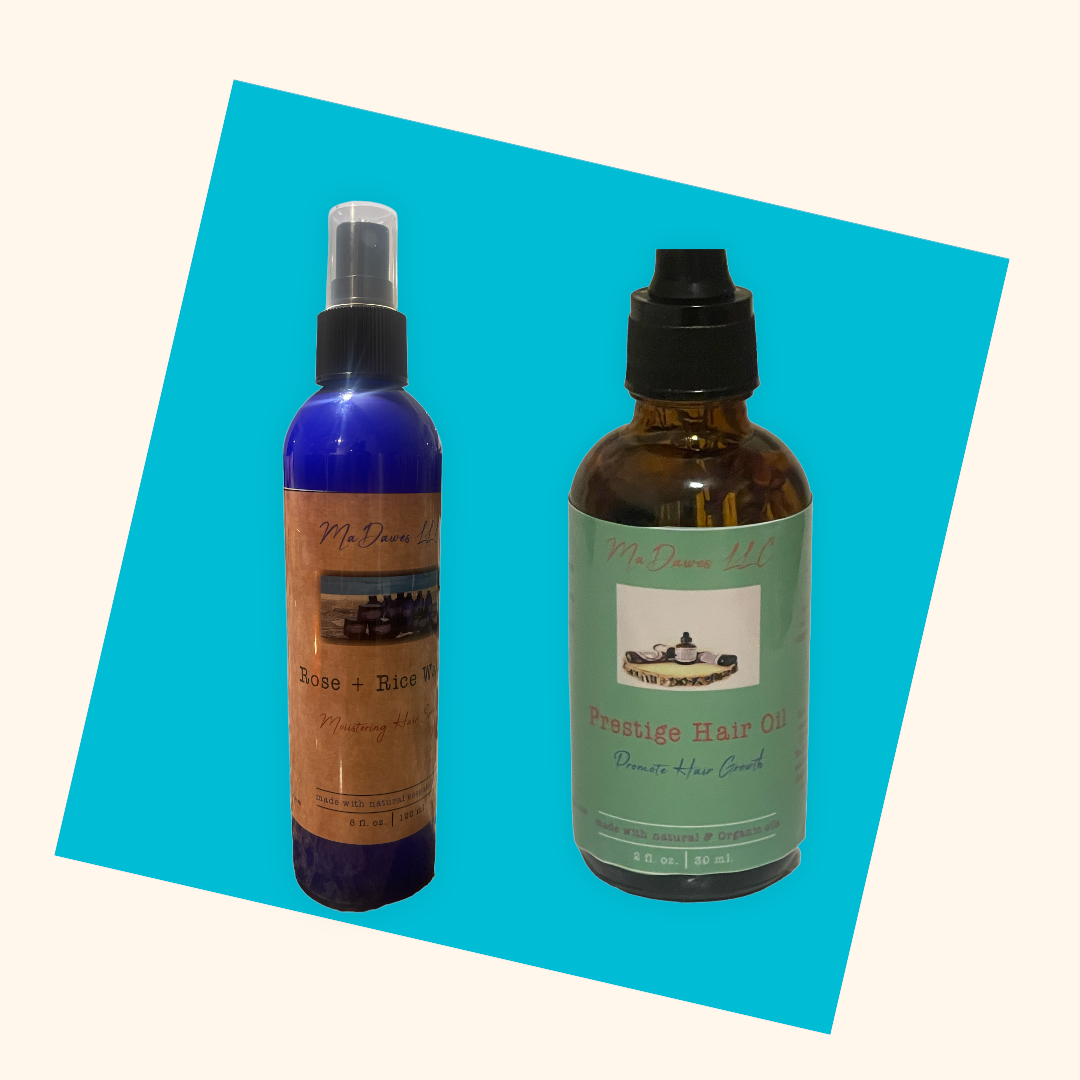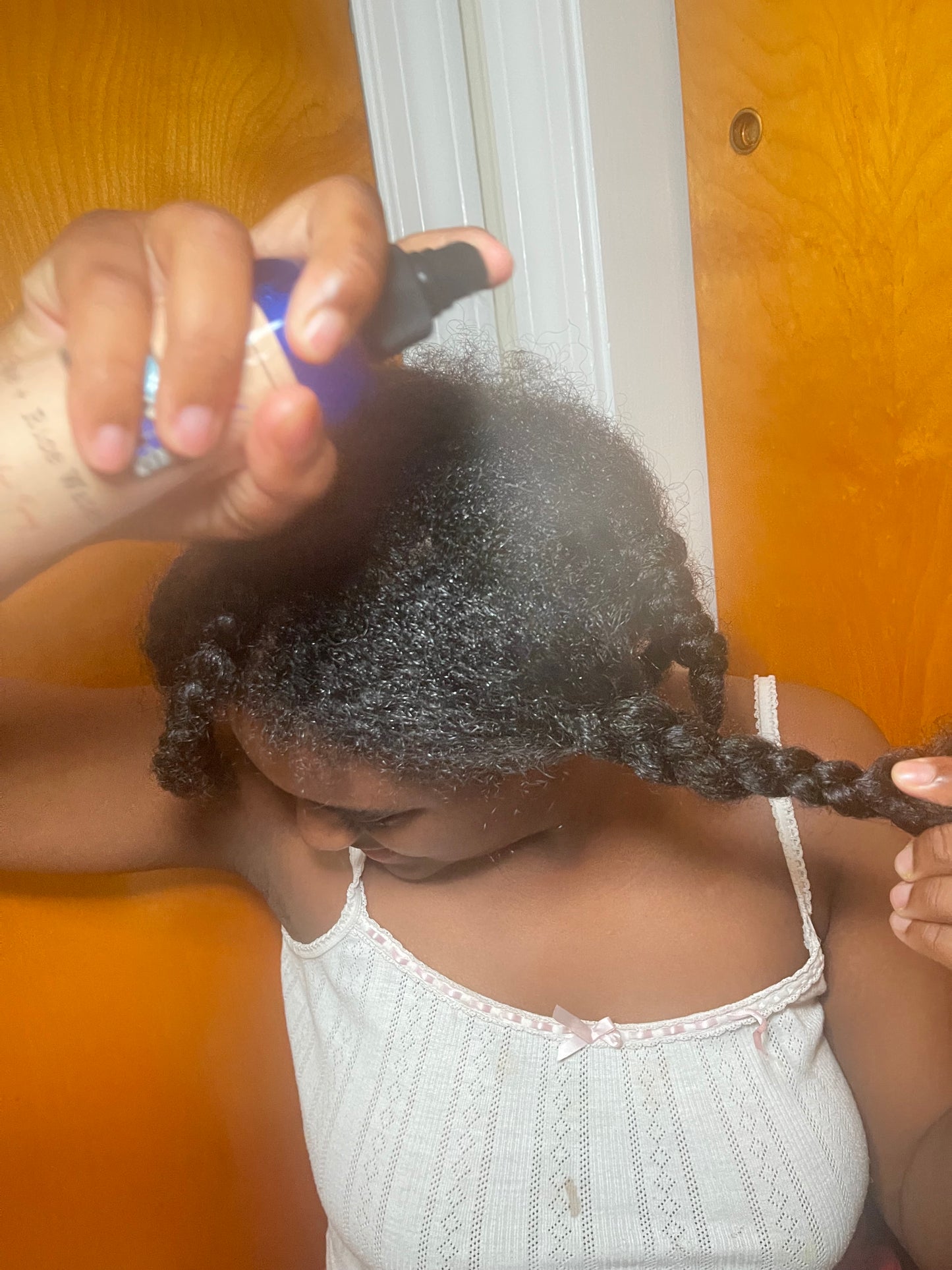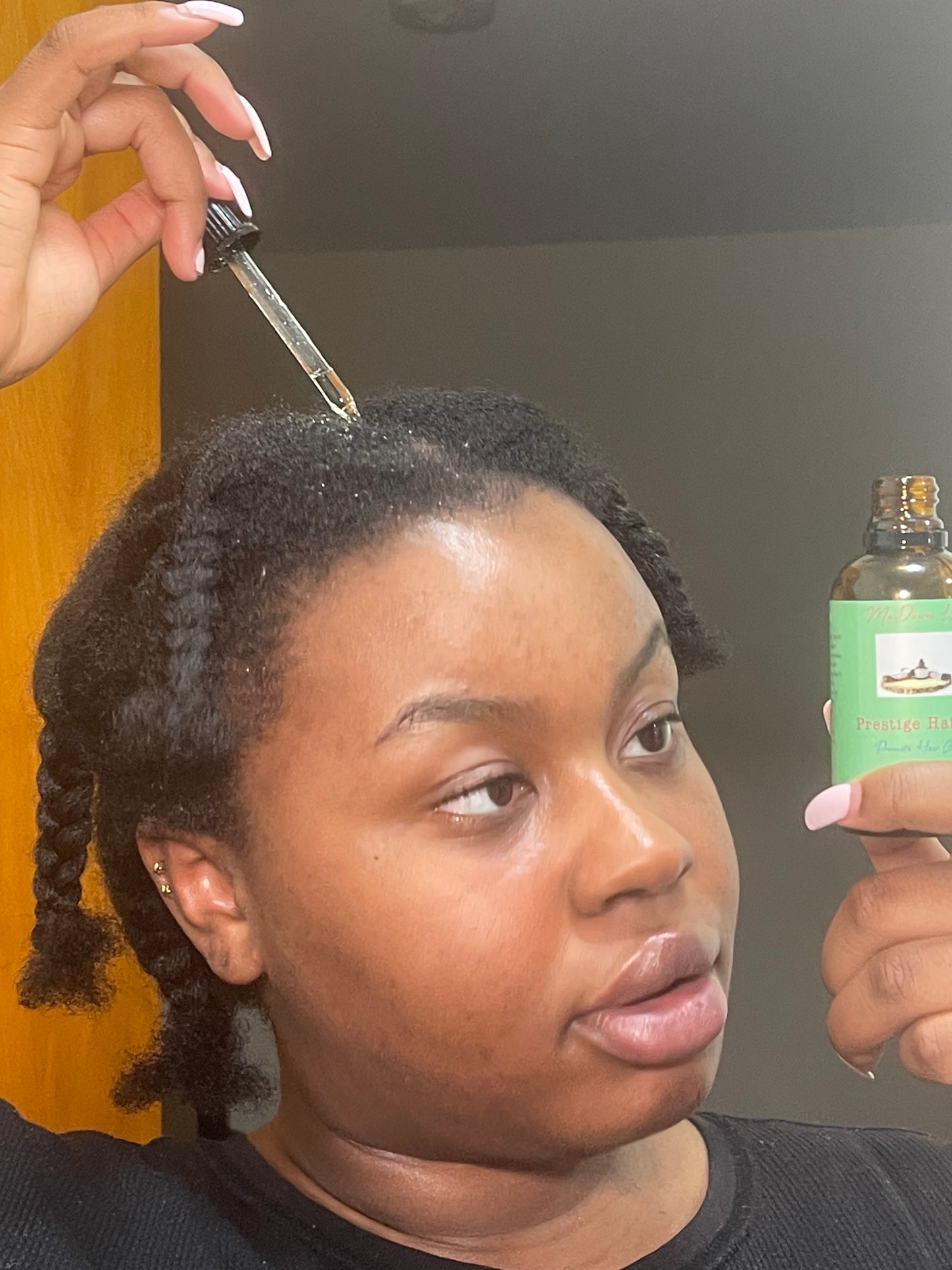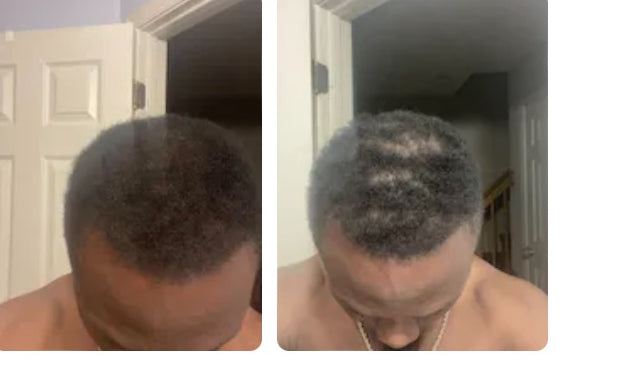 Amazing product
I highly recommend this hair spray and oil. I have been struggling with dry scalp and dull hair, but after using this for a week I started noticing improvement for my scalp and hair. Easy to apply and smells great. Would definitely purchase again.
Hello Asma, we are happy to hear that our products are helping you thank you for your support and we will continue to work hard and keep all of our ingredients clean and safe. Thanks again.
In love
This product has been an absolute game-changer in my daily routine. The combination of the spray and oil has worked wonders, and I've witnessed the incredible transformation it has brought to my hair. I can't stress enough how much I recommend it to everyone seeking a solution. As for me, I'm not just a customer; I'm a dedicated, lifelong enthusiast of this phenomenal product. It's a must-try for anyone looking to achieve amazing results.
Love it!
I love this so much I got some to share some with my sister!
Never disappoints
I am absolutely in awe. My hair was in bad shape, and rather dry because of the weather change, the prestige hair oil and Rice/rose water combo literally revived my hair. I am in love with the berry sage body soap. It smells super good and made my skin feel clean yet moisturized.
Insanely good
I'm love with this product. The rice/rose water detangles my hair and keeps it moisturize. The oil is very light and does not weights your hair down. It's amazing.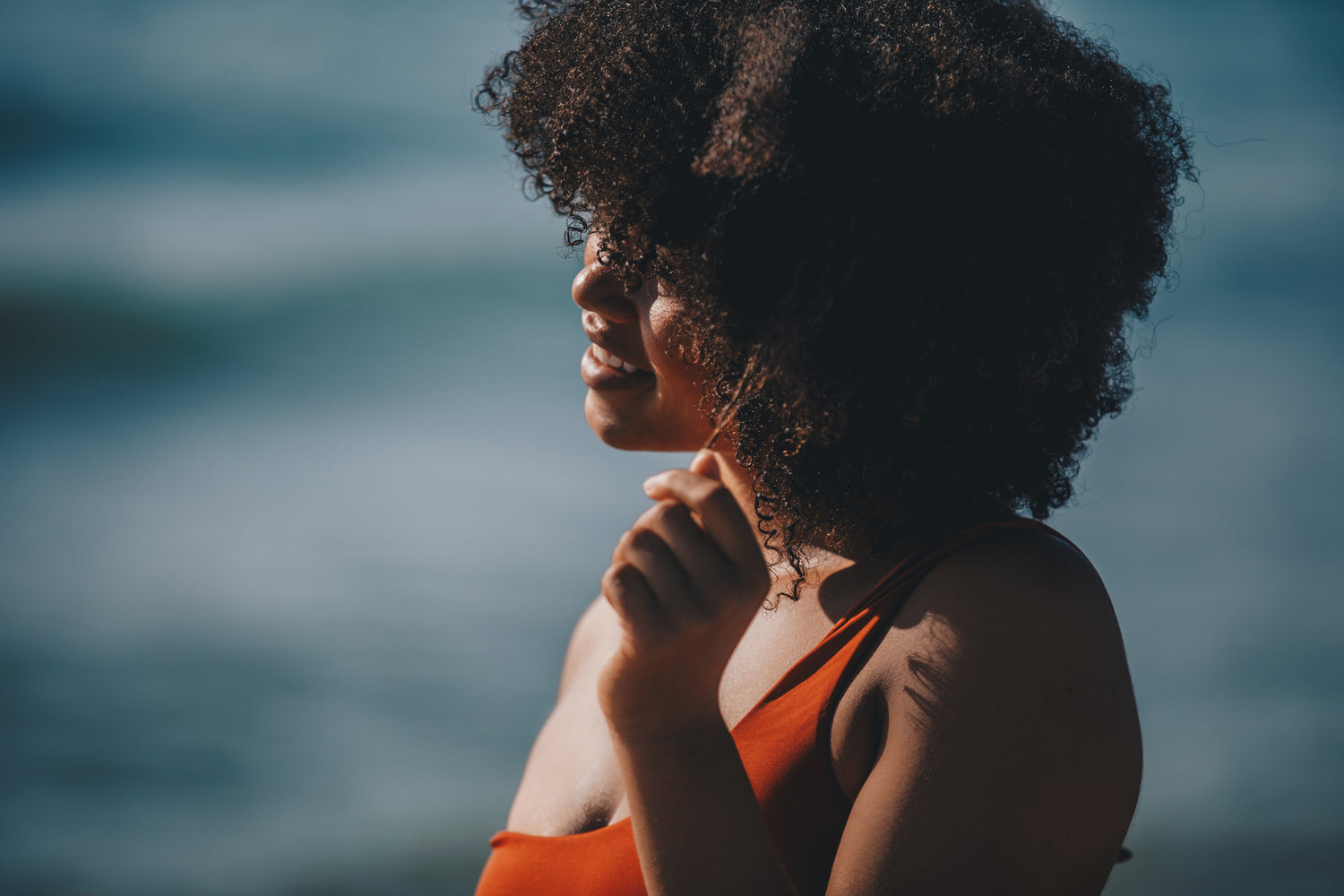 We care!
At MaDawes hair products, we meticulously handpick natural and organic ingredients, sourcing them from West Africa and across the globe to guarantee unrivaled quality and authenticity. Our product line provides potent solutions for a wide range of hair concerns, tackling issues such as dryness, eczema, and alopecia. In our relentless pursuit of excellence, we hold sustainability and ethical practices in the highest regard, underlining our commitment to both your hair's well-being and the planet's.
FREE SHIPPING

Delivery is on us for all orders over $50

Certified Natural Haircare Formulator.

This rock-solid foundation is the cornerstone of crafting products that consistently, and unequivocally, deliver outstanding results.

30 Days Money Back Guarantee.

Love it, or receive a full refund on all purchases